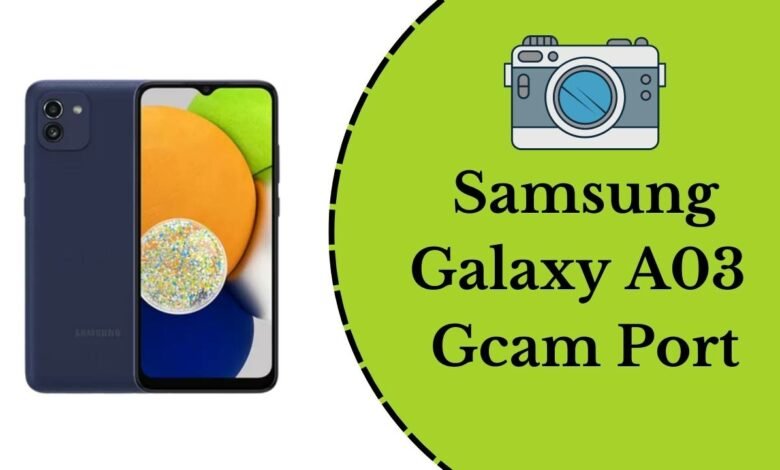 Samsung Galaxy A03 is an affordable smartphone that was released in 2021. While it comes with a decent camera setup. The Google Camera (GCam) app can further enhance the camera capabilities of the device. In this article, we'll take a closer look at the features of GCam, how to install GCam on the device, and where to download the Samsung Galaxy A03 GCam config file.
This device is powered by a MediaTek Helio P35 processor. It comes with 2GB/3GB of RAM and 32GB/64GB of internal storage. That can be expanded up to 1TB using a microSD card. The phone features a 6.5-inch IPS LCD display with a resolution of 720 x 1600 pixels. It is equipped with a dual-camera setup on the back, including a 13-megapixel primary camera and a 2-megapixel depth sensor. And a 5-megapixel front-facing camera.
Google Camera Features
GCam apk is a powerful camera app that uses advanced processing algorithms to produce high-quality images and videos. Some of the features of GCam include:
Night Sight: This feature enables users to capture high-quality images in low-light conditions, without using the flash.
Portrait mode: This feature blurs the background of a photo, making the subject stand out. Also, creating a professional-looking image.
HDR+: This feature takes multiple shots at different exposures and combines them to create a well-balanced image with improved contrast and detail.
Astrophotography: This feature allows users to capture stunning photos of the night sky. Including stars and other celestial objects.
Samsung Galaxy A03 Gcam Port
We found various types of GCam port apk links. But you have to select the right one. Otherwise, you can't capture beautiful pictures. LMC, Trcam, Nikita, AGC, BGS & many more camera apk available for Android users. You just need to grab the best camera apk version.
How to Install GCam Apk on Samsung Galaxy A03
Google Camera installation procedures are very easy. You just need to read the below steps. After that, you need to complete every step carefully. Then you can able to use GCam port. Also, you need to collect suitable XML config files.
Download the GCam APK file from a trusted source online.
Once the file is downloaded, open the file manager app on your Samsung Galaxy A03 and locate the downloaded APK file.
Tap on the file to install it on your device. If prompted, allow installation from unknown sources.
Once the installation is complete, open the GCam app and start taking high-quality photos and videos on your Samsung Galaxy A03.
Samsung Galaxy A03 Config File Download
To further improve the performance of the GCam app on your Samsung Galaxy A03. You can download and apply a configuration file. The config file contains settings that have been optimized for the Samsung Galaxy A03, ensuring the best possible results. You can download the Samsung Galaxy A03 GCam config file from various sources online.
In conclusion, installing the GCam app on your Samsung Galaxy A03 can significantly improve the camera capabilities of the device, and with its advanced features, you can take stunning photos and videos. Just make sure to download the correct version of the app. And the configuration file to ensure the best results.
Read More:
GCAM For Samsung Galaxy A52 – Latest Google Camera
Google Camera 8.1 APK Download For Android 11
Download Gcam For Samsung Galaxy S21 Ultra 5G
Gcam For Samsung Galaxy Note 20 Ultra