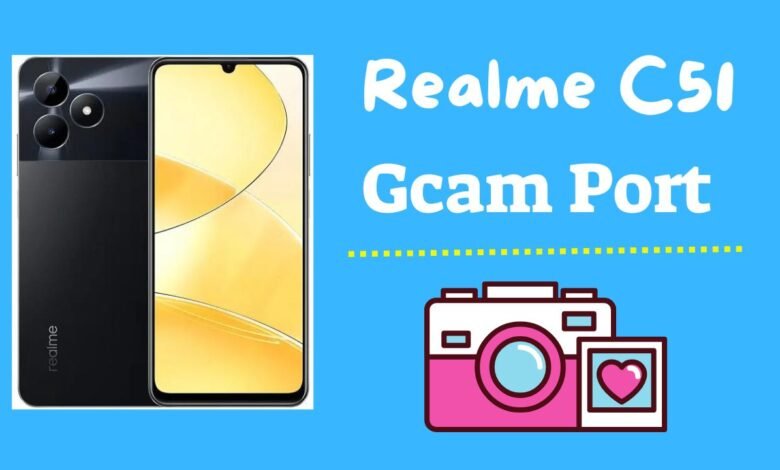 Are you ready to take your Realme C51 camera to new heights? With the Realme C51 GCam Port. You can unlock a world of enhanced photography possibilities. In this user-friendly guide, we'll explore the exciting GCam APK features, and dive into the Realme C51 specifications. Learn how to easily install the GCam APK on your device, discover where to get GCam configs, and address some frequently asked questions.
Realme C51 has a 6.5-inch HD+ display. It comes with an octa-core CPU for smooth performance. Up to 4GB RAM for multitasking. Long-lasting battery to keep you snapping. On the other hand, it has a 50 MP primary camera. So, you can capture perfect quality pictures with the stock camera.
GCam APK Features
The Realme C51 GCam Port brings a host of powerful features to your fingertips:
Night Sight: Capture stunning low-light shots with enhanced clarity and vibrant colors, even in the dark.
Portrait Mode: Achieve professional-looking bokeh effects that make your subject stand out against a beautifully blurred background.
HDR+: Take high-quality photos with improved dynamic range, preserving details in both bright and dark areas.
Astrophotography: Capture the breathtaking beauty of the night sky, including stars and celestial wonders.
Top Shot: Never miss the perfect moment – let AI suggest the best shot from a burst of photos.
Realme C51 GCam Port
The Realme C51 GCam Port bridges the gap between your device's camera hardware. Google's cutting-edge image processing technology. By integrating the GCam APK, you'll experience improved image quality, enhanced dynamic range, and stunning low-light performance.
How to Install GCam APK on Realme C51: Simple Steps
We explain the GCam apk installation guidelines. You should read the below step & complete every step carefully. Bringing GCam magic to your Realme C51 is a breeze. Follow these steps:
Allow Unknown Sources: Go to Settings > Additional Settings > Privacy > Install unknown apps > Choose the browser you'll download from.
Download the GCam APK: Use your browser to download the GCam APK for Realme C51.
Install the APK: Locate the downloaded APK in your file manager and tap to install it.
Adjust Settings (Optional): Open GCam, head to Settings, and tailor the configuration to your preferences.
Capture Awesome Shots: You're all set! Start capturing stunning photos with GCam's enhanced features.
Realme C51 GCam Configs Download
To enhance your GCam experience further. Explore various GCam configuration files. These configs are tailored settings profiles shared by users to optimize results for different scenarios. Look for Realme C51 GCam configs online to fine-tune your photography experience according to your style.
Frequently Asked Questions (FAQs) About Realme C51 GCam
1. Is GCam compatible with all Realme devices?
Not all features may be compatible due to hardware variations, but many core features work well.
2. Will GCam affect my battery life?
While some GCam features might use slightly more battery, it's generally not a significant difference.
3. Can I still receive software updates after installing GCam?
Yes, installing GCam typically doesn't interfere with software updates.
4. Do I need to root my Realme C51 to use GCam?
No rooting is needed. You can install and use GCam without modifying your device.
5. Where can I find GCam configuration files?
Look for them on photography forums and online communities. They can help optimize your GCam experience.
Transform Your Photography with Realme C51 GCam Port!
Elevate your photography skills and capture stunning moments with the power of the Realme C51 GCam Port. By following our simple installation guide and exploring GCam configurations. You'll be on your way to creating breathtaking photos that stand out. Embrace the magic of GCam and watch your photography game flourish!
Read More:
Realme 11 Gcam Port | Download Android Camera
Realme C53 Gcam Port | Best Camera APK
Best Realme 11 Pro Gcam Port Download
Realme 10 Pro Plus Gcam Port | Latest Config Available
Realme C1 Gcam Port | Features, Installation & Configuration