GCam
Honor 9X Gcam Port | Latest Version Camera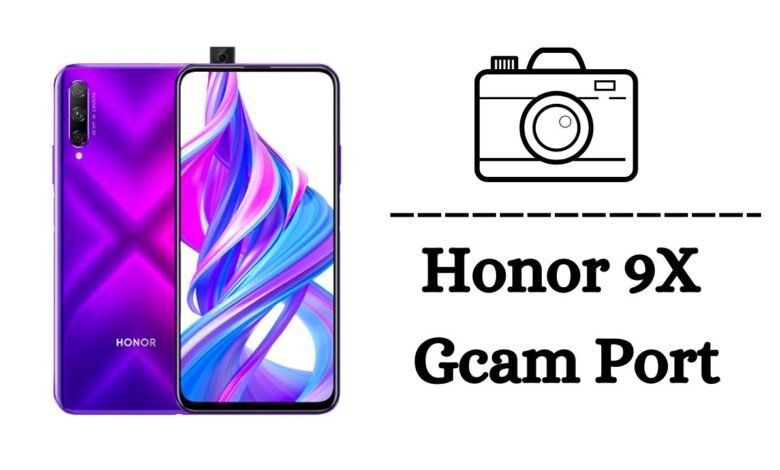 Smartphone photography has come a long way. One of the tools that has significantly contributed to this evolution is the Google Camera (GCam) application. The Honor 9X, a popular mid-range smartphone, can now harness the power of GCam through a port. Unlocking advanced photography features and improving overall camera performance. In this article, we'll delve into the key features of the Honor 9X GCam port, guide you through the installation process, and provide you with some frequently asked questions.
Honor 9X Display size is a 6.59-inch IPS LCD. This device processor is HiSilicon Kirin 710F. It has a 4GB/6GB RAM with 64GB/128GB (expandable via microSD) storage. Rear Cameras: 48MP primary, 8MP ultrawide, 2MP depth sensor. 16MP pop-up camera front camera gives you the best selfies. 4000 mAh battery works with Android 9.0 (upgradable) OS.
GCam Port Features
Night Sight: GCam's Night Sight feature is renowned for its ability to capture stunning low-light shots. It uses advanced algorithms to reduce noise and enhance details in dimly lit environments.
HDR+ Enhancement: The High Dynamic Range (HDR+) mode in GCam preserves details in both highlights and shadows, resulting in well-balanced and vibrant photos, even in challenging lighting conditions.
Portrait Mode: GCam's portrait mode utilizes computational photography techniques to create professional-looking portrait shots with a pleasing background blur, also known as the bokeh effect.
Astrophotography: If you're fascinated by the night sky. The GCam port for Honor 9X brings astrophotography capabilities, allowing you to capture breathtaking shots of stars and celestial bodies.
Advanced Image Processing: GCam's sophisticated image processing algorithms optimize color accuracy, sharpness, and overall image quality, elevating your photography to new heights.
Honor 9X GCam Port
The Honor 9X GCam Port is a modified version of the Google Camera app. It is optimized to work with the device's camera hardware. Installing this port can significantly enhance the camera performance and image quality of your Honor 9X. Here we bring the suitable GCam apk for the Honor 9X device. We hope that it will give you the perfect photography experience.
How to Install Google Camera on Honor 9X
Some people thought GCam apk installation guidelines were hard. But we make it every for everyone. Here we share the Gcam port installation procedure in an easy way. So, read the below instructions & complete every step.
Enable Unknown Sources: Go to Settings > Security > Install apps from unknown sources, and enable it for your preferred file manager.
Download the GCam APK: Download the compatible GCam APK for Honor 9X from a reliable source.
Install the GCam APK: Use your file manager to navigate to the downloaded APK file and install it.
Grant Permissions: Once installed, open the GCam app and grant the necessary permissions it requests.
Configure Settings (Optional): Some GCam ports offer additional settings to fine-tune the camera performance. You can experiment with these settings to find the optimal configuration for your device.
Honor 9X GCam Configs Download
GCam configs are XML files that can further enhance the camera performance of the GCam Port. These configurations are device-specific and can be easily applied:
Search online for "Honor 9X GCam configs."
Find a suitable configuration file for your specific GCam version.
Download the XML file to your device.
Open the GCam app and double-tap on an empty space around the shutter button.
Select the downloaded config file to load the settings.
FAQs about Honor 9X GCam Port
1. Is the GCam Port safe to install on my Honor 9X?
Yes, the GCam Port is generally safe to install. However, ensure you download it from a reputable source to avoid security risks.
2. Can I still use the stock camera after installing GCam?
Absolutely. Installing GCam doesn't affect the stock camera app, and you can switch between the two as needed.
3. Do all GCam features work perfectly on the Honor 9X?
While many features work well, some might not function optimally due to device-specific limitations or the port's development stage.
4. How often should I update the GCam Port?
It's a good idea to check for updates periodically. Newer versions might include bug fixes, performance improvements, and additional features.
5. Can I use GCam configs from other devices?
It's recommended to use configs specifically designed for the Honor 9X to ensure optimal performance and compatibility.
Enhance your Honor 9X photography experience by exploring the capabilities of the GCam Port. With its advanced features and improved image processing. You can capture stunning photos in various conditions that truly showcase the capabilities of your device's camera.
Read More:
Honor 8X Gcam Port | Best Camera Apk
Honor 8 Lite Gcam Port Latest Version Download