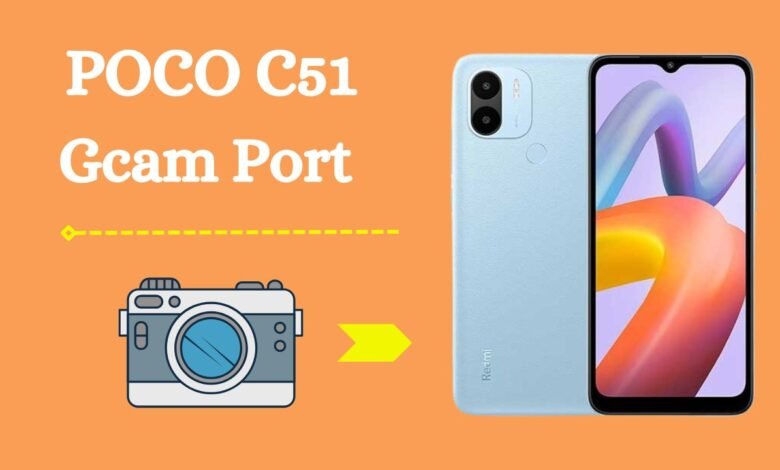 The POCO C51 is a budget-friendly smartphone that packs impressive specifications. But its camera capabilities can be further enhanced with the use of the GCam (Google Camera) port. In this article, we'll explore the exciting features of the GCam APK, delve into the specifications of the POCO C51, guide you on how to install GCam on your device, provide a link for downloading the POCO C51 GCam config file, and address some essential FAQs to help you make the most of your photography experience.
A vibrant 6.52″ 6.5-inch IPS LCD with a high-resolution screen for an immersive viewing experience. Powered by a capable Mediatek Helio G36 (12 nm) chipset for smooth multitasking and gaming. 8 MP primary camera available with 5 MP front camera.  A 5000 mAh long-lasting battery that keeps you connected throughout the day. Running on the latest version of MIUI, offering a user-friendly interface. 4GB RAM works with 64 GB storage.
GCam APK Features
The Google Camera (GCam) app is renowned for its advanced imaging capabilities. Here are some key features that make it a must-have for POCO C51 users:
Night Sight: Capture stunning low-light photos with enhanced clarity and reduced noise.
Astrophotography Mode: Capture the beauty of the night sky with long-exposure shots of stars and celestial objects.
HDR+ Enhanced: Enjoy improved dynamic range and color accuracy in your photos.
Portrait Mode: Achieve professional-looking portraits with background blur (bokeh) and adjustable focus.
Top Shot: Automatically selects the best shot from a burst of photos to ensure you never miss the perfect moment.
Super Res Zoom: Enhance the quality of zoomed-in photos for sharper details.
AR Stickers: Add fun and creativity to your photos with augmented reality stickers and effects.
POCO C51 GCam Port
The latest version of the GCam port is available for everyone. You can enhance your photography by using GCam apk. There are lots of websites that provide the GCam apk. But, we bring the useful GCam apk with XML configs. So, it is a great chance to grab a realistic Google Camera.
How Do I Install GCam on POCO C51?
Many Google Camera users don't know how to set up the GCam apk. Here we share the GCam apk installation guidelines. You should read the below instruction. It will help you to learn the Gcam installation procedure. Enhance your photography game by installing the GCam port on your POCO C51. Follow these steps to get started:
Download the compatible GCam APK for your device.
Install the APK file by enabling "Unknown Sources" in your device settings.
Open the GCam app and start exploring its powerful features.
POCO C51 Config File Download
For optimal performance, you can download and apply a configuration file tailored to your POCO C51's camera sensors. This file fine-tunes the GCam settings for your device, ensuring the best results. We collect some suitable XML config files.
Download POCO C51 GCam Config File
FAQs About POCO C51
Q1: Is installing the GCam port on my POCO C51 safe?
A1: Yes, it's safe, but ensure you download it from trusted sources to avoid potential security risks.
Q2: Can I still use the stock camera app after installing GCam?
A2: You can switch between the GCam and stock camera apps as needed.
Q3: What should I do if the GCam app crashes or doesn't work properly?
A3: Try clearing the app's cache and reinstalling it. If issues persist, look for an updated GCam version compatible with your device.
Unlock the full photographic potential of your POCO C51 with the GCam port. and capture breathtaking photos and videos with ease. Enjoy experimenting with its advanced features and settings to elevate your mobile photography game.
Read More:
Download Gcam Port For POCO M3 | XML Configs Available
Download Gcam For Xiaomi POCO X3
Gcam For Xiaomi Poco X2 – Gcam Apk
Download Gcam For Xiaomi Mi 11 Smartphone